Sale!Lot of Devil Books- 3 Hardcover Devil Books! Cheap!
Item Number : 681150

Auction Detail
Description
A lot of three devil books. The first book is the hardcover book "Devil's Donkey" by Bill Brittain with drawings by Andrew Glass. It is the story of Dan'l who has a run in with the old witch Magda and she uses black magic to turn him into a donkey. The second book is " The Devil's Bridge" retold by Charles Scribner, Jr. and illustrated by Evaline Ness. It is the story of how the devil promises a French town that he will build them a bridge for the price of a human soul. The third book is "13 Devils" by Dorothy Gladys Spicer. It contains tales of devils from all over the world. "13 Devils" has a little bit of staining and the cover is a bit beaten up but is still in good condition. The other two books are in excellent condition. All three books have library stickers and stamps. I will accept cash, a check, a money order, or paypal. Please take a look at my other auctions.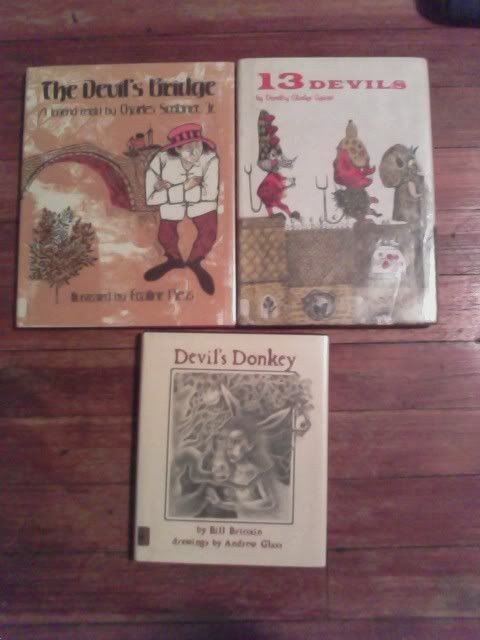 Bidding
Relist This Item
Sale!Lot of Devil Books- 3 Hardcover Devil Books! Cheap!
Item # 681150




If you are the owner of this item, you can relist this item by clicking the link below. When you relist an item, you cannot make any changes to the item title or description. If you need to make any changes, you should not relist the item, but rather use the Add an Auction feature to add it again.

How To Bid

1.
Register to bid - if you haven't already. It's free!
2.
Learn about the seller - Read feedback and ratings left by others to assure that the seller is trustworthy.
3.
Know the details - read the item description and payment & shipping terms closely.   If the seller has guarantees or a return policy, make sure you know the terms.
4.
If you have questions - contact the seller before you bid.
5.
Place your bid!
   
Use of this Web site constitutes acceptance of the GothAuctions.com User Agreement and Privacy Policy. Please visit the Auction Help area for more information about our policies prior to using the site.

Transmitted: 6/23/2017 9:55:51 AM


©2001-2010 GothAuctions.com, a TriCyber LLC Venture