~*~ Never Used Beauty Samples Nail Polish Lot ~*~
Item Number : 683962

Auction Detail
Description

5 .25 fl oz Nail polish
Sultry Red
Innocent Pink
Creamy Brown
Deep Purple (Almost Black)
Sexy Lavender

3 .45 fl oz Nail Polish
Beautiful Beige
Stunning Black
Yummy Lilac

2 Hand soaps in a drawstring bag
2 .75 fl oz Purity Moisturize Hand and body lotions
2 .75 fl oz Purity Condition Hair Care
2 .75 fl oz Sol Terre Awake Shampoos
1 .75 fl oz Pantene Pro-V Conditioning Shampoo

3 Avon Scent Samples
Surreal Garden
Black Suede
HisStory



SHIPPING COST IS ONLY $5.00


PayPal is the accepted form of payment. If you need to pay a different way, please let me know. I'll work with ya.
No checks though.
You must contact me within 3 days of auction end; payment must be received within 4 days.
I leave feedback upon receipt of payment; please do the same when item is received to your satisfaction.
If there are problems with your purchase, please contact me to resolve.


Any additional questions, please ask prior to bidding.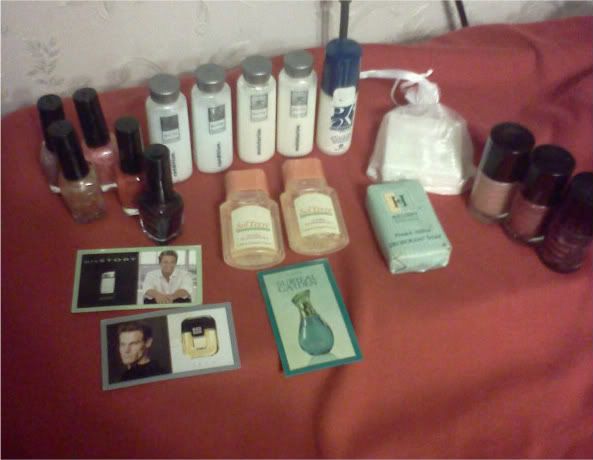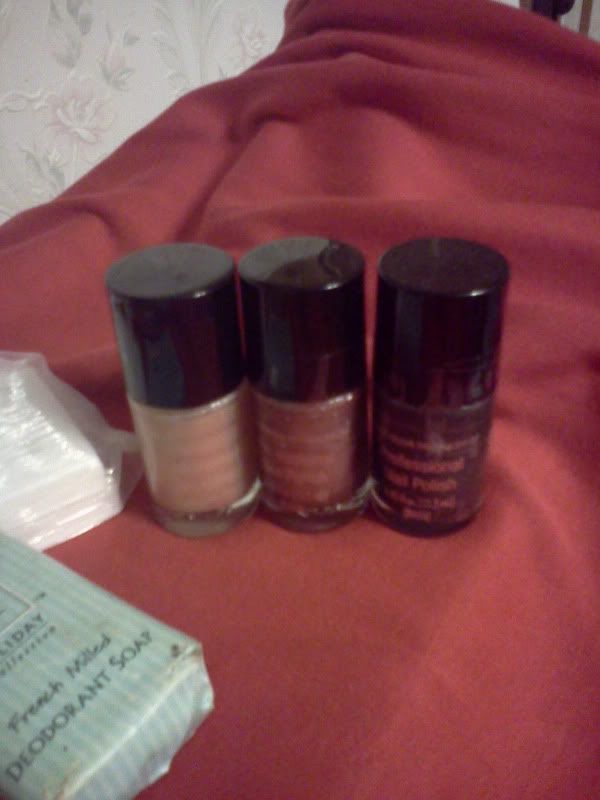 Added on 4/18/2012 12:17:06 PM
---
Thank you so much for the bid and I found something to add.
2 oz Tresemme Mousse travel size Extra firm hold
I thought it was hairspray when I bought it so it has never been used.
Guess this might turn into a progressive if I keep finding things. LOL!

Bidding
Relist This Item
~*~ Never Used Beauty Samples Nail Polish Lot ~*~
Item # 683962




If you are the owner of this item, you can relist this item by clicking the link below. When you relist an item, you cannot make any changes to the item title or description. If you need to make any changes, you should not relist the item, but rather use the Add an Auction feature to add it again.

How To Bid

1.
Register to bid - if you haven't already. It's free!
2.
Learn about the seller - Read feedback and ratings left by others to assure that the seller is trustworthy.
3.
Know the details - read the item description and payment & shipping terms closely.   If the seller has guarantees or a return policy, make sure you know the terms.
4.
If you have questions - contact the seller before you bid.
5.
Place your bid!
   
Use of this Web site constitutes acceptance of the GothAuctions.com User Agreement and Privacy Policy. Please visit the Auction Help area for more information about our policies prior to using the site.

Transmitted: 6/25/2017 11:46:33 PM


©2001-2010 GothAuctions.com, a TriCyber LLC Venture