SALE!Lot O Girly Paranormal Vampire Books
Item Number : 684272

Auction Detail
Auction Type
Standard
Bonus
Current Bid
-- Reserve Not Yet Met
Starting Bid
$6.00
Quantity
1
# of Bids
0 (Bid History)
Time Left
Auction is Closed
Location
Richmond, Va., U.S.
Started
4/20/2012 10:18:17 PM
Ends
4/27/2012 10:18:17 PM
Mail This Auction to a Friend
Watch this Auction
Item Owner (Ratings)
monkeynavigated (1716)
(View or Leave Feedback on Seller)
(View Seller's Other Auctions)
High Bidder (Ratings)
--
Accepted Payment Methods
See Description for Details
Shipping Costs
Successful bidder will pay all shipping costs
Shipping Limits
Will ship anywhere
Ship Via
Will Ship Air or Surface mail
Times this auction viewed
13
Description
A lot of four paperback vampire books. The first is "Micah" by Laurell K. Hamilton. It's about Anita Blake, necromancer and vampire hunter and her trip to Philadelphia with her wereleopard lover. The second is the book "Twice Bitten: Love In Vein II" which is stories of vampire erotica. The third book is "Into the Darkness" which is the lust filled story of a woman who is being transformed into a vampire and her detective lover. The 4th book is "Real Vampires Live Large" which is about a newly turned vampire whose lover decides to get revenge on the vampire hunter who bombs her clothing boutique and the energy vampires trying to kill her. All the books are in good condition. Love In Vein II is brand new. I will accept cash, a check, a money order, or paypal. Please take a look at my many auctions.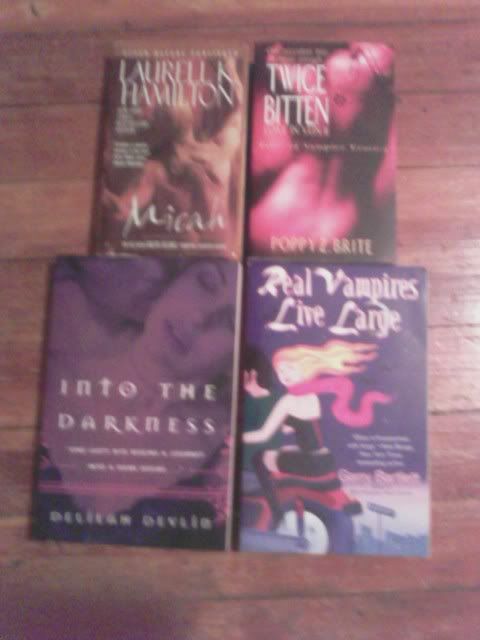 Bidding
Relist This Item
SALE!Lot O Girly Paranormal Vampire Books
Item # 684272




If you are the owner of this item, you can relist this item by clicking the link below. When you relist an item, you cannot make any changes to the item title or description. If you need to make any changes, you should not relist the item, but rather use the Add an Auction feature to add it again.

How To Bid

1.
Register to bid - if you haven't already. It's free!
2.
Learn about the seller - Read feedback and ratings left by others to assure that the seller is trustworthy.
3.
Know the details - read the item description and payment & shipping terms closely.   If the seller has guarantees or a return policy, make sure you know the terms.
4.
If you have questions - contact the seller before you bid.
5.
Place your bid!
   
Use of this Web site constitutes acceptance of the GothAuctions.com User Agreement and Privacy Policy. Please visit the Auction Help area for more information about our policies prior to using the site.

Transmitted: 6/28/2017 6:30:52 PM


©2001-2010 GothAuctions.com, a TriCyber LLC Venture