Pentagram Chest and Cupboard with Spell mixes, Charcoal
Item Number : 651585

Auction Detail
Description

Make sure to read everything before bidding.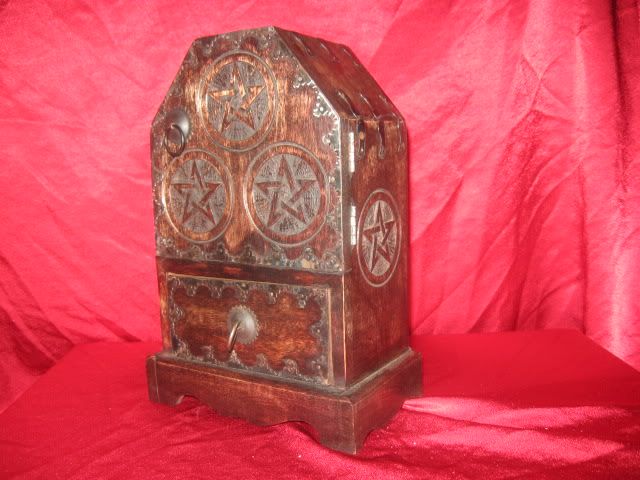 Perfect for holding your jewelry, herbs and other small treasures, this fantastic, miniature cupboard is an absolute delight. Accented and framed in riveted metal, it is also marked with the engravings of two pentagrams, one on each of its broad sides, carved so that the lines of the central star weave in and out of each other. Similarly, the front face is marked with three of these mystical symbols on the hinged door to the top storage compartment; two on the bottom, and one above, each marking the point of a triangle. This door is designed to be tugged open by a little pull ring and held closed by a small latch that can be fastened opposite of its small hinges. Within you will find an upper storage compartment with two shelves, perfect for arraying your jewelry collection, herbs and ritual tools. Beneath the door to this compartment you will find another small pull ring, designed to tug open the lower drawer which slides out to contain more of your treasures. With the whole cupboard measuring 11" by 7 5/8" by 4 1/2", its upper cabinet contains one shelf that is 5 1/2" wide, 2 5/8" high and 3 1/2" deep and a second shelf which is 3 1/2" deep, 5 1/2" wide and a maximum height of 2 1/2", with angled sides that narrow towards the top. The pull out drawer possesses internal dimensions of 2 1/4" high, 4 3/4" wide and 2 7/8" deep. With all of this storage space, it is the perfect addition to your dresser, night stand or altar.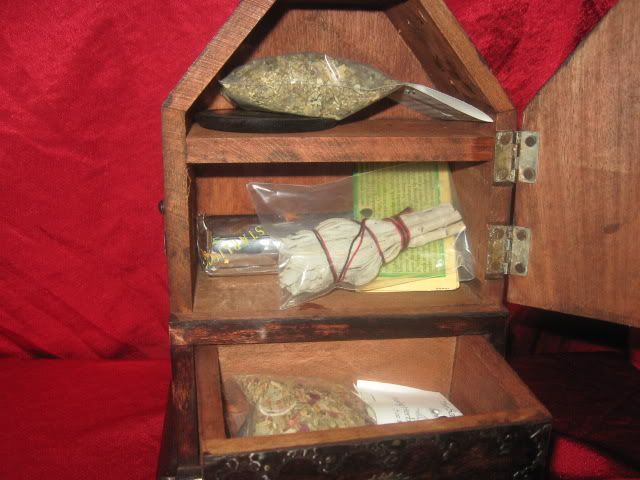 Added Extras: 4 winds Herbal Blend .5 ounce ingredients: Coltdfoot, Mullein, Mugwort. Comes with Directions. This item is worth $2.00 on its own.
Small California White Sage Smudge Bundle, worth $5.00 on its own
Healing Herbal Spell Mix .5 ounce Used during Healing Work. Worth $1.50 on its own.
Purification Herbal Spell mix, used for purification work. Comes with Directions. .5 ounce worth $1.50 on its own.
Banishing Herbal Spell Mix, used for banishing work. .5 ounce worth $1.50 on its own.
1 roll Starlight Charcoal. 10 discs in a roll. Worth on $4.00 on its own.
Pentagram Altar disk wood with gold tone inlay. worth $2.00 on its own.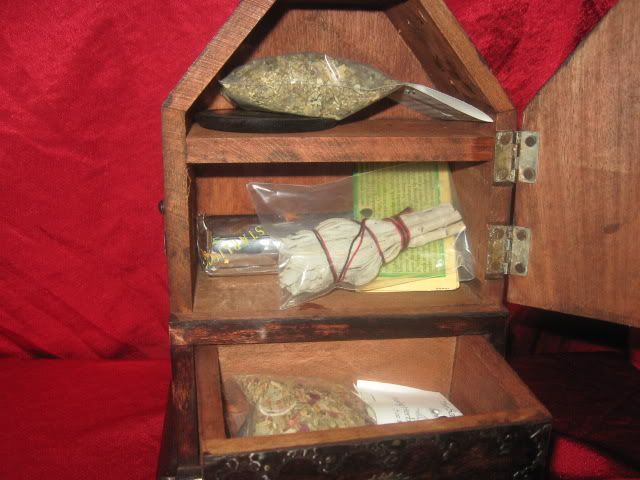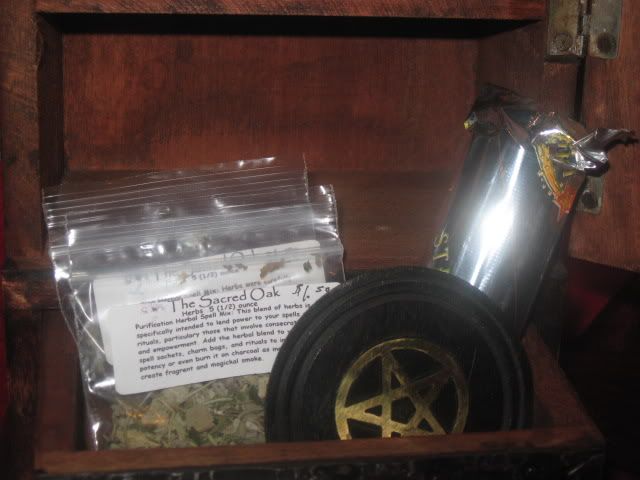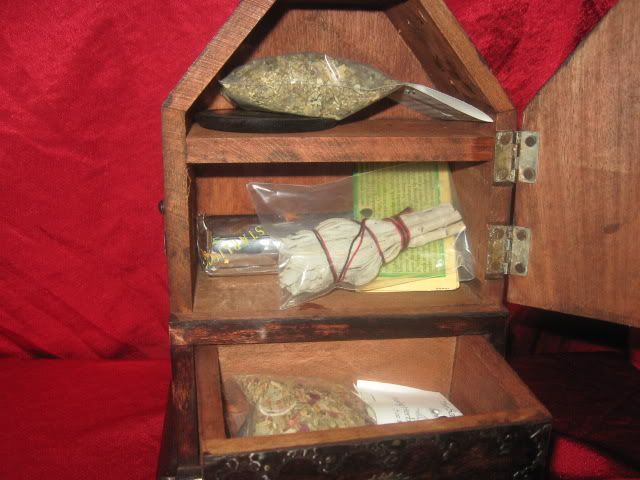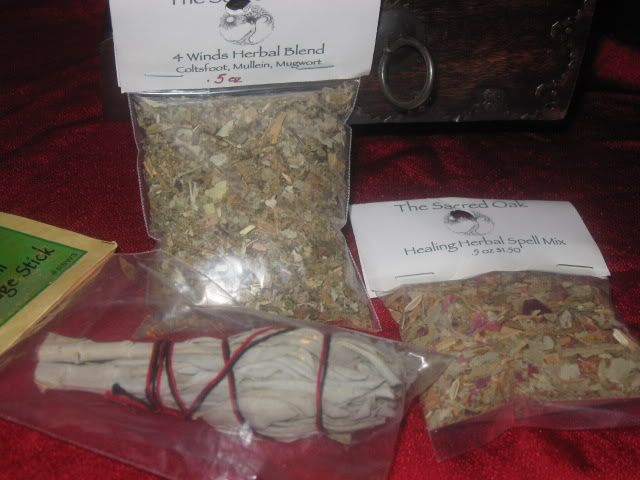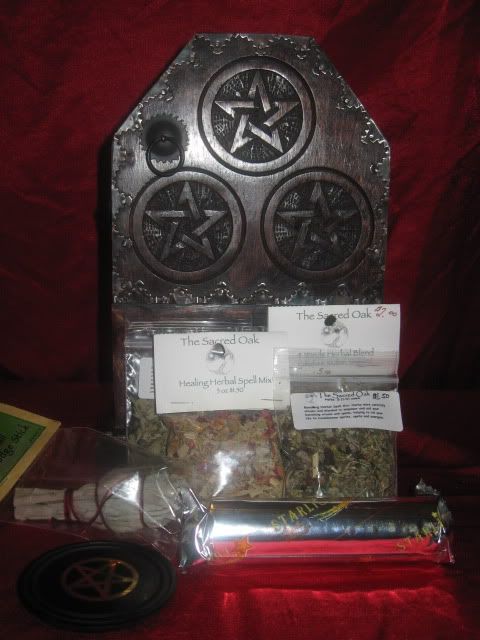 Shipping and Payment info: Shipping in USA, Canada & Mexico is $9.00 Everywhere else $17.00. We accept PayPal, Google Check Out, and Money Orders. Items shipped after payments are cleared. Combine Shipping available. Contact after auction is within 24 hours. Due to our small town we ship M-F our Post Office is closed on Saturdays. We use USPS for all our shipping.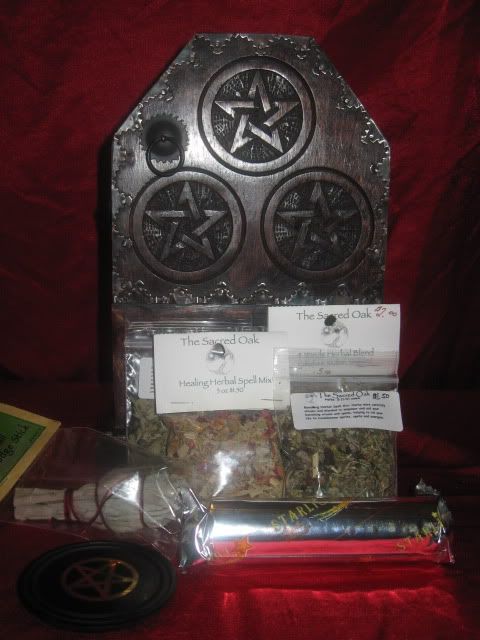 Bidding
Relist This Item
Pentagram Chest and Cupboard with Spell mixes, Charcoal
Item # 651585




If you are the owner of this item, you can relist this item by clicking the link below. When you relist an item, you cannot make any changes to the item title or description. If you need to make any changes, you should not relist the item, but rather use the Add an Auction feature to add it again.

How To Bid

1.
Register to bid - if you haven't already. It's free!
2.
Learn about the seller - Read feedback and ratings left by others to assure that the seller is trustworthy.
3.
Know the details - read the item description and payment & shipping terms closely.   If the seller has guarantees or a return policy, make sure you know the terms.
4.
If you have questions - contact the seller before you bid.
5.
Place your bid!
   
Use of this Web site constitutes acceptance of the GothAuctions.com User Agreement and Privacy Policy. Please visit the Auction Help area for more information about our policies prior to using the site.

Transmitted: 6/26/2017 6:19:44 PM


©2001-2010 GothAuctions.com, a TriCyber LLC Venture