Celtic Pentagram Mango Wood Chest
Item Number : 651598

Auction Detail
Description

Make sure to read everything before bidding.
This fine wooden chest would be an enchanting addition to any altar or home. Carved of mango wood, it is covered in exquisite carvings; decorating each of the sides you will find two pentagrams, side-by-side on the lower portion of the box. On the front you will find two more, these of an interwoven design and linked by a pattern of Celtic knots. Upon the hinged lid you will find the top decorated lovingly with another pentagram at its center, larger than the others and surrounded in a bordering pattern of woven Celtic knots. Painted black, it sits 7 3/4" wide, 6" deep and 4 1/2" tall, with an internal cavity that is approximately 6 1/4" wide, 4 1/4" deep and 2 3/4" high, making it perfect for jewelry, herbs, ritual tools and whatever else you can imagine storing in it.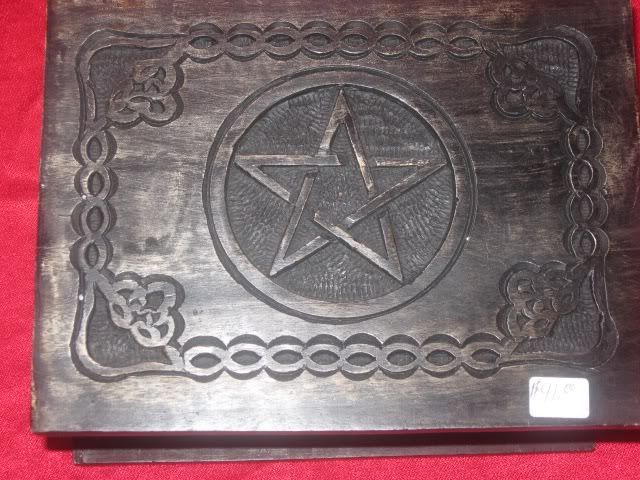 Pentagram Wooden Altar Tile with a copper inlay. Worth $2.00 on its own.

White Palm Wax Dragons Blood Votive. Hand poured by Willow, will last approx. 15 hours. Worth $1.00 on its own.

Purification Spell Mix 1/2 ounce. Used in Purification work. Worth $1.50 on its own.

Starlight charcoal roll, 10 disquiets in a roll. Self Light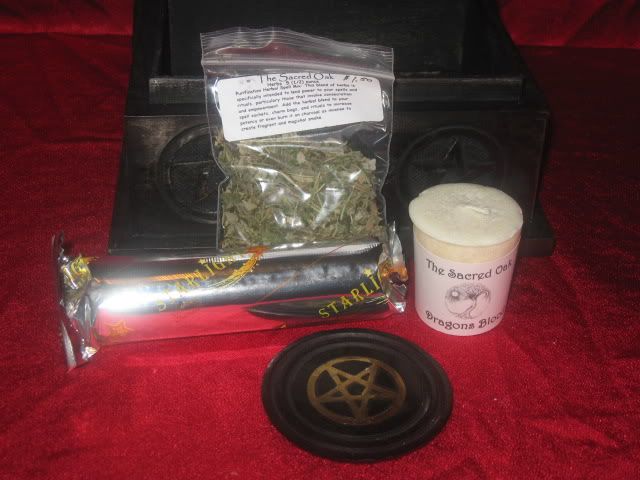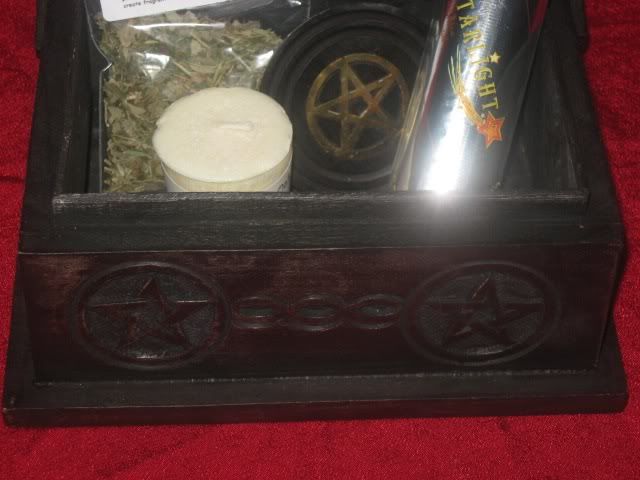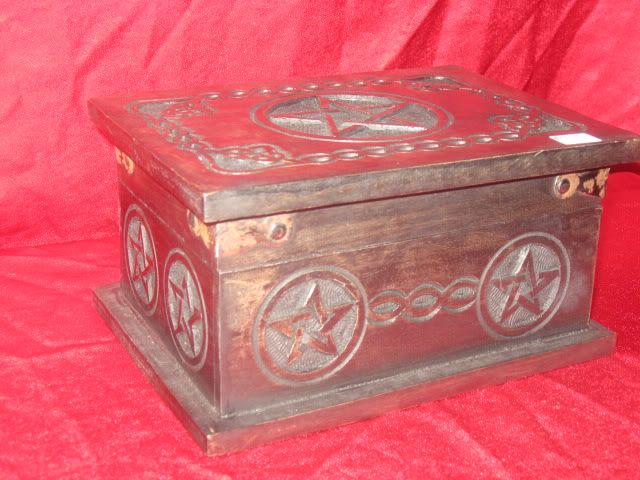 Shipping and Payment info: Shipping in USA, Canada & Mexico is $9.00 Everywhere else $17.00. We accept PayPal, Google Check Out, and Money Orders. Items shipped after payments are cleared. Combine Shipping available. Contact after auction is within 24 hours. Due to our small town we ship M-F our Post Office is closed on Saturdays. We use USPS for all our shipping.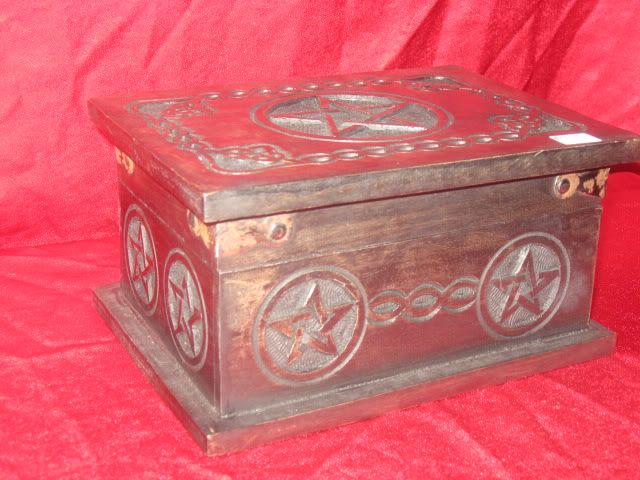 Bidding
Relist This Item
Celtic Pentagram Mango Wood Chest
Item # 651598




If you are the owner of this item, you can relist this item by clicking the link below. When you relist an item, you cannot make any changes to the item title or description. If you need to make any changes, you should not relist the item, but rather use the Add an Auction feature to add it again.

How To Bid

1.
Register to bid - if you haven't already. It's free!
2.
Learn about the seller - Read feedback and ratings left by others to assure that the seller is trustworthy.
3.
Know the details - read the item description and payment & shipping terms closely.   If the seller has guarantees or a return policy, make sure you know the terms.
4.
If you have questions - contact the seller before you bid.
5.
Place your bid!
   
Use of this Web site constitutes acceptance of the GothAuctions.com User Agreement and Privacy Policy. Please visit the Auction Help area for more information about our policies prior to using the site.

Transmitted: 6/26/2017 6:20:09 PM


©2001-2010 GothAuctions.com, a TriCyber LLC Venture